For More Details On Paint Protection FIlm PPF, Visit our New PPF Website
WHY CHOOSE Paint Protection Film?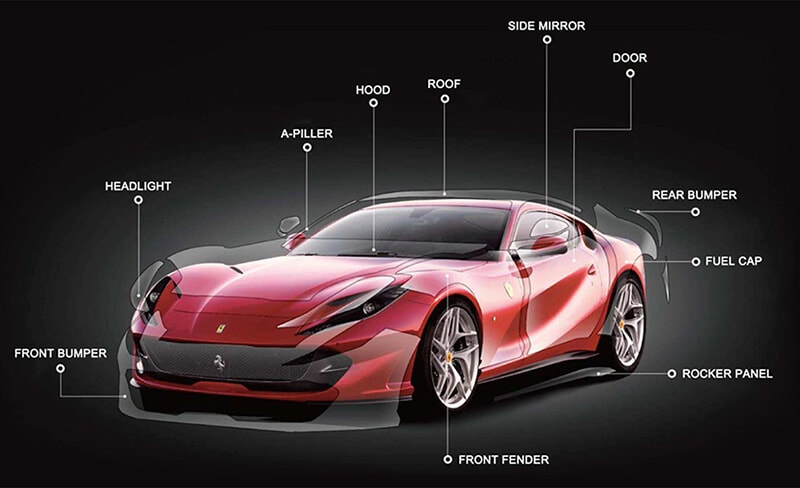 Paint Protection Film that is scientifically formulated to help maintain the beauty and integrity of vehicle finishes for many years, in all kinds of weather…
Form & Finish brings high-quality vehicle paint protection film to Charlotte, NC. We are certified SunTek Paint Protection Installers and utilize the industry's highest quality products to bring our customers the best paint protection film service for their car, truck, or SUV. Also known as clear bra, paint protection film (PPF) utilizes a special urethane technology to bring a strong, reliable, gloss enhancing, protective topcoat for your vehicle. Protect your vehicle against dirt, rocks, weather-related elements, road debris, and UV rays with one of SunTek's incredible paint protection film options. At Form & Finish our experienced clear bra installers ensure flawless PPF installation, leaving your vehicle protected and looking its very best! It is important to note that the best time to bring in your vehicle for PPF is right after you purchase it from the dealership. If there are any minor paint flaws we can perform paint correction to make sure that the vehicle is ready for install. Choose the film coverage right for your vehicle. Speak with our film experts about coverage options today.

WHAT IS PAINT PROTECTION FILM?
Paint Protection Film is a thin invisible, self-healing film applied to specific areas of your vehicle, or the entire vehicle itself. There is even a film option to wrap your entire vehicle to have a matte finish. So if you've thought about changing the finish of your paint to a matte finish you may just want to explore our matte paint protection film wraps.
COMBINING PAINT PROTECTION FILM & CERAMIC COATINGS
Should you be looking to enhance your vehicle's paint protection even further, Suntek paint protection films can be combined with our ceramic coatings to offer the best paint protection available. Enhance your vehicle's overall gloss & shine while providing premium paint protection for your vehicle with our PPF & Ceramic Coating Package. Prevent solvent & water penetration, retain & enhance resale value, help with ease of maintenance and never wax your car, truck or SUV ever again when you combine paint protection film with a ceramic coating!
SUNTEK PAINT PROTECTION FILMS
If you have been looking to protect your new vehicle with paint protection film you have probably found that there are many different film options to choose from. While all clear bra films are designed to offer vehicle protection & enhancement they are not all created equal. At Form & Finish we only use products & materials that we believe in. We carry and install SunTek Reaction Film, Film M (matte). Not only will you get a reliable, strong, and long-lasting film, but each film is also backed by an amazing warranty when installed by a certified SunTek PPF professional.
While all of SunTek's paint protection films offer self-healing capabilities, SunTek Reaction film has been reinvented merging hydrophobicity with premium self-healing abilities. This advanced 2 in 1 construction means once installed SunTek Reaction film can stand up to flying rocks, salt, grit, & all kinds of road debris. With a noticeably clearer finish, SunTek Reaction film leaves your vehicle with an intense gloss and flawlessly smooth finish. Reaction film comes installed with Eastman Tetrashield Protective Resin Technology, meaning that this clear bra film can stand up against the harshest of natural elements. Bird droppings, acid rain, insects, and dirt wash away from the slick surface of your vehicle effortlessly… and SunTek Reaction Film is 25% more stain-resistant than any other top brand film, ensuring the ultimate stain protection for your vehicle!
Form & Finish vehicle protection experts take pride in all of the services we complete. It is our goal to ensure our clients and their cars have the best experience from start to finish. Are you exploring different paint protection options, looking to have paintless dent repair done on your vehicle or are you ready to have ceramic coating installed? Well look no further, our talented team of vehicle protection experts are here to help! Give us a call or fill out one of our quote forms today! We look forward to working with you!
For More Details On Paint Protection FIlm PPF, Visit our New PPF Website